Featured Events

Join luminaries Garth Brooks and Trisha Yearwood as they host the first ACM Lifting Lives Fundraising Gala on April 17, 2015. The "One Night, Two Cities, All Music" gala will consist of two shows taking place simultaneously at the Omni Dallas Hotel and the Fort Worth Zoo. The Omni Dallas Hotel gala will feature headliner and ACM Awards nominees Lady Antebellum, and a special performance by Hunter Hayes. Fort Worth Zoo will feature ACM Awards nominees including headliner Keith Urban, and a special performance by Little Big Town. Nancy O'Dell, Emmy®-award winning journalist and co-host of Entertainment Tonight, will join Brooks and Yearwood to co-host the Fort Worth gala.
Garth Brooks and Trisha Yearwood will alternate between both locations throughout the evening to entertain attendees in Dallas and Fort Worth. A host of celebrities along with prominent music industry and entertainment executives are scheduled to attend. The inaugural gala will kick off with a cocktail reception, followed by a dinner, live auction and a stellar line-up of performances by country music's most celebrated artists.
Please click "BUY TICKETS" to purchase tickets for the gala. Tickets are priced at $1,250 for INDIVIDUAL SEATS and $10,000 for a TABLE OF TEN.
If you'd like to purchase tickets for the 50th Annual Academy of Country Music Awards, or inquire about other ACM events, please contact Gentry Alverson at gentry@acmcountry.com.
Buy Tickets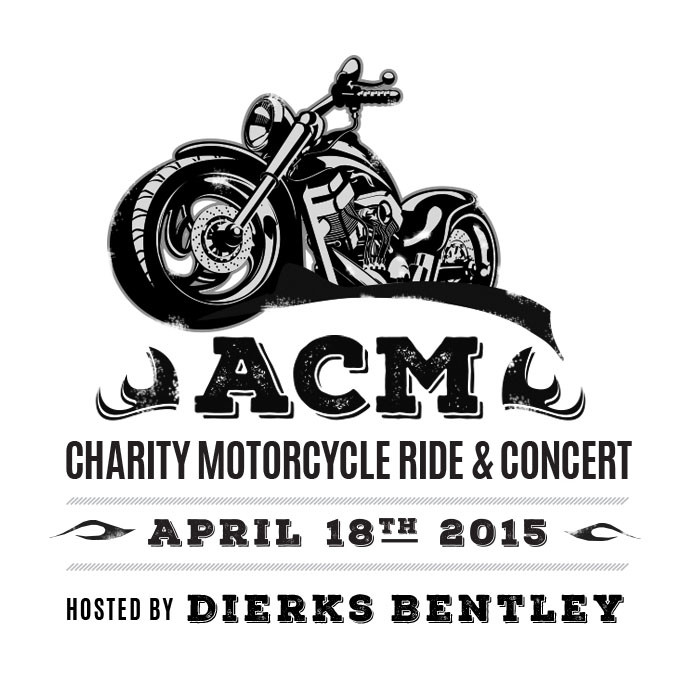 Come on out for Country Music's Biggest Ride™! The ACM Charity Motorcycle Ride and Concert, taking place on Saturday, April 18, 2015, is your ticket to country music's hottest bike rally in town! The ride will be hosted by the Academy of Country Music and three local Texas dealerships: Strokers Dallas, Longhorn Harley-Davidson and Maverick Harley-Davidson, with all proceeds benefitting ACM Lifting Lives and local Child Abuse Advocacy Groups.
The ACM Charity Motorcycle Ride and Concert marks a historic partnership between three premier motorcycle dealers in the Dallas area. Escorted rides will begin at Strokers Dallas and Longhorn Harley-Davidson, and end at Maverick Harley-Davidson for a 'post-ride rally concert', hosted by Dierks Bentley, featuring additional performances by Dee Jay Silver, Clare Dunn, Will Hoge, Joey Hyde, Montogomery Gentry, James Otto and Thompson Square.
All non-riders have the option to purchase a ticket to attend only the performances taking place at Maverick Harley-Davidson.
General Admission registration costs $75/person.

Need a bike to join us? For more information on motorcycle rentals, please contact Sport Ryder Rentals in Carrollton, Texas, at http://www.sportryderrentals.com or (214) 906-7472, as well as Eagle Ryder Rentals in Irving, Texas, at (800) 434-7368, and Adam Smith's Texas Harley Davidson in Bedford, Texas, at http://www.texasharley.com/we-lease-harley-bikes--rentals or (817) 267-2646.
Buy Tickets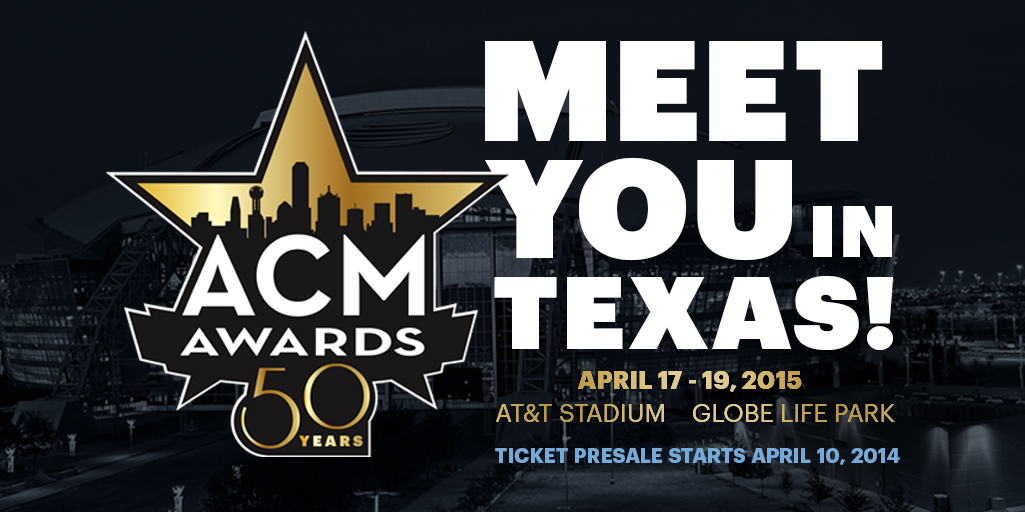 Superstars BLAKE SHELTON and LUKE BRYAN will co-host the 50TH ANNUAL ACADEMY OF COUNTRY MUSIC AWARDS, LIVE from the AT&T Stadium in Arlington, Texas (home of the Dallas Cowboys), on Sunday, April 19, 2015.

Tickets for the 50TH ANNUAL ACADEMY OF COUNTRY MUSIC AWARDS are priced from $60 to $500 for reserved seating, with a limited number of VIP packages priced at $1,250 and $1,500, while supplies last.
The after-show party, ACM's annual ALL-STAR JAM will be held in the West Plaza at AT&T Stadium, following the ACM Awards. Tickets for the ALL-STAR JAM are $200 for general admission.
ACM PARTY FOR A CAUSE: 50 YEARS OF MUSIC & MEMORIES - One of the most exciting anniversary parties ever held! This two-day outdoor music event featuring country's top hit makers will be held on Friday, April 17 & Saturday, April 18 at Globe Life Park in Arlington, Texas (home of the Texas Rangers). This event will feature LIVE country music performances from some of the biggest stars in the business. Talent announcements will be made throughout the year leading up to the anniversary.

Two-day ticket packages for the ACM PARTY FOR A CAUSE are $85 for general admission, and $100 for reserved seating.


*Professional Members are allowed to purchased 10 (ten) tickets to each event, while supplies last.
Buy Tickets